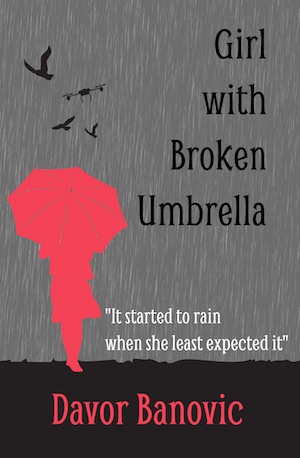 Girl with Broken Umbrella
What do art and terrorism have in common? In what kind of trouble acreative mind can take you?
Ana is a journalist who discovers an important manuscript and a gifted cartoonist whose life is in danger. David is a philosopher and an author of a story collection about the war in Bosnia. Boris is an innovative artist. Fabian – a future cleric. Pierre is a friend.
Their stories are not ordinary. Everything about their lives is mysteriously connected with other people, and distant times and places. Every detail has many meanings, and their paths are defined by those meanings.
They will take you to the streets of Zagreb, through the basements and art studios, to a book fair and an explosive factory. They will lead you into a secret society quarters, an interrogation room at the Russian border, and eventually to Paris.
You'll walk near the battlefield, through a gay parade, and into the target of a terrorist attack.
Disguised as the main characters' journey through the time and places, this actually is a fascinating semantic journey. Things around you will never look the same again.